We are honored to recognize Gerry and Steve Keen with the Rabbi Robert J. Marx Social Justice Award.
Gerry and Steve have dedicated their lives to uplifting disinvested communities through community service, volunteer work, and nonprofit support. Steve has served as a longtime JCUA board member, trusted advisor, CVP committee member, and Board President. In addition to Steve's work with JCUA, he has devoted his leadership skills to several additional organizations including the Executive Service Corps and Family Service of Lake County. Gerry has dedicated herself to community endeavors across Chicagoland by working alongside youth, supporting senior citizens, and serving as an advocate for the arts. Together, Steve and Gerry have championed local communities, ensuring that people can live in safety and dignity with the resources they need to flourish.
Gerry and Steve's long history with JCUA has endured throughout generations. Gerry's father Herb Heyman, along with his dear friend and business partner Howard Landau, were involved with JCUA since its early days and were visionary founders of JCUA's Community Ventures Program (CVP). Through CVP, they recruited friends, family and colleagues to participate in pooling funds to provide seed money for affordable housing across Chicago. Started in 1991, this innovative program puts community partnership at the core of its mission. CVP flourished as a source of much-needed early funding, providing over $8 million in zero-interest loans to 50 projects and helping to create over 4,700 units of affordable housing throughout the Chicago area. Steve has continued to serve as an advisor to the program as a testament to his belief in its mission and in honor of the commitment Gerry's dad embodied to helping people secure safe and affordable housing.
In addition to their service work, Gerry and Steve are also devoted to their Jewish community. They have been longtime members of Hakafa Congregation, where inclusivity and justice are central themes. Hakafa's rabbinic leadership has been hugely influential in JCUA's history, and both Hakafa and JCUA share a founder in Rabbi Robert Marx (z"l). Hakafa's is led by Rabbi Bruce Elder, a former JCUA staff member who is also a JCUA past president.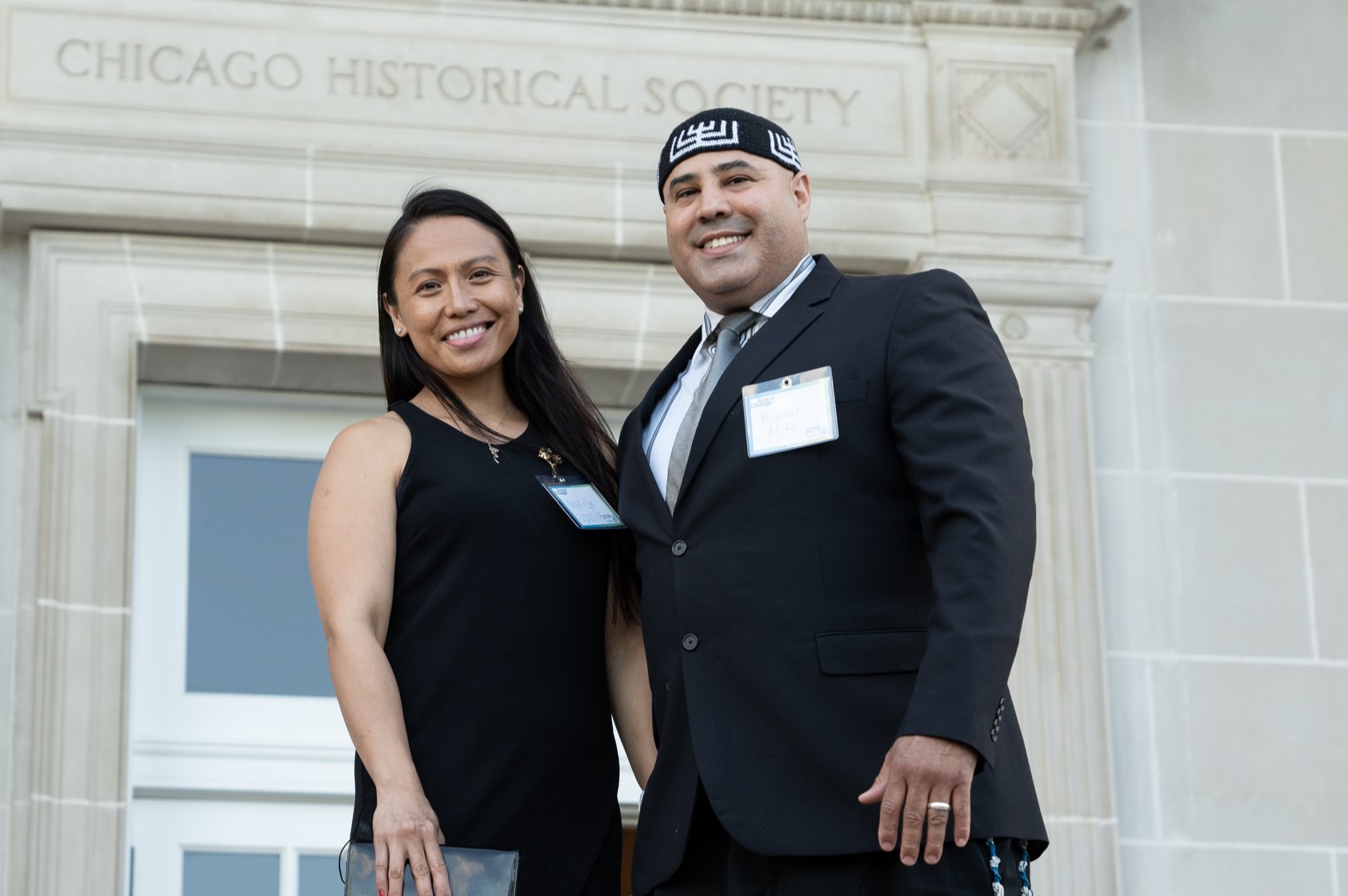 We are proud to honor Brother Michael Eldridge with the Miriam Award for Inspiring Community Leadership.
Mike has dedicated his life to uplifting communities through community service, committee work, and volunteer support. Mike began his journey with JCUA through the Trauma Center Campaign in 2015. After several years of active involvement of Mike and many others, a new Level I adult trauma center opened at the University of Chicago medical campus in the spring of 2018. 
After this historic win, Mike became deeply engaged in the Southwest Organizing Project and work on community safety. Through the Grassroots Alliance for Police Accountability, Mike supported another historic win when the Empowering Communities for Public Safety Act passed in the summer of 2021. Through his deep commitment to justice, Mike has championed local communities and been a part of tremendous issue campaign wins that ensure the people of Chicago can live in safety and dignity with the resources they need to flourish. 
Mike is also a founding member of the Kol Or Jews of Color Caucus. Through his commitment to Kol Or, Mike has supported the growth of a welcoming and affirming Jewish community space where JOC feel supported and encouraged to take on leadership roles within the Jewish community. Mike has created deep, lasting relationships with members and assists in the planning of community building events including the annual Kol Or Juneteenth Celebration. Last year's celebration welcomed 100 people at Marquette Park where Dr. Martin Luther King Jr. and JCUA founder, Rabbi Robert J. Marx once marched together. Mike's passion and zeal has made a lasting impression on everyone he touches through his community work, including Kol Or members, staff, and fellow leaders. 
In addition to his advocacy work, Mike is also devoted to his Jewish community. Mike grew up in Albany Park with his aunt where they celebrated Jewish holidays at home. Around the time of his Bar Mitzvah, he became active in an Orthodox synagogue called Young Israel of Chicago. He now attends Beth Shalom B'Nai Zaken Ethiopian Hebrew Congregation with his wife Maricar and three children Mark Rubio Dingal, Michael Angelo, and Maykayla Yudith, who often join him at JCUA events and programs. Beth Shalom's leader, former JCUA Board President Rabbi Capers Funnye, serves as the Chief Rabbi of the International Israelite Board of Rabbis.