February 7, 2022
Alana Chandler uses food to explore the experiences of Jews of Color
For Alana Chandler, growing up in Chicago's Jewish community with both a Jewish and Japanese background could be an isolating experience. "I didn't know there were Jews of Color in Chicago," she said. "I only really knew my sister and myself."
After graduating from a Jewish day school, Alana found an intentional community through a Jewish feminist internship for teens, which encouraged its participants to take on their own social justice-based research project. Alana had spent years curating and sharing food recipes on her Instagram account, @chow.by.chandler. So when selecting a project, she decided to explore the intersection of her Jewish identity and her passion for food.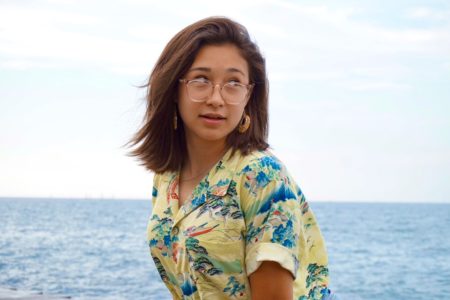 Chandler began reaching out to Jews of Color to hear their stories and learn about how their Jewish traditions and history informs their cooking. She chose to distill this research in the form of a cookbook, which would serve as an accessible way to showcase the diversity of Jewish cuisine and the lived experiences of Jews of Color.
"Food is something essential that everyone needs to live. I think it's an easier way to get people interested in learning about JOCs, rather than a film or a book or essays," Alana explained. "This is firstly for JOCs to read other JOC stories and connect, but it's also for non-JOCs to learn about their experiences."
She ultimately produced a digital cookbook and was able to print copies for herself and her contributors, but the project didn't go much further. "I was in high school and didn't really have funding, so it wasn't able to spin out into a huge project," she said.
After graduating from high school, Alana connected with JCUA's Kol Or Jews of Color Caucus, an affinity group for members who identify as Jews of Color. She describes Kol Or as one of the first communities she found that made her feel empowered as a Jew of Color. 
"It really blew me away. I'm so grateful to find it because it kind of acted as a gateway into learning about other Jewish organizations like Be'chol Lashon, Ammud, and Lunar Jews"
With encouragement from JCUA Community Organizer Jackie Baldwin, partnership with Be'chol Lashon, and mentorship from Rabbi Ruth Abusch-Magder, Chandler was inspired to take her cookbook to the next level, making it a community cookbook that accepted recipes from all over the world.
Much like her original project, Tlaim: The Patchwork Cookbook, hopes to redefine what Jewish food can be. 
In early American Judaism, "foods that weren't Ashkenazi were labeled as inauthentic and pushed out of Jewish institutional spaces. Food is emblematic of how people are accepted into the Jewish community. If we're very exclusive in what our definition of Jewish food is, it means we're also very exclusive in what we see as counting as Jewish culture."
By producing an accessible and widely available cookbook, Chandler hopes to "loosen the ropes" on what foods can count as Jewish. In five years, her hope is that there will be a physical cookbook that "could be sold in bookstores across the world. The profits would be donated to food justice or JOC organizations. Additionally, she sees the cookbook as a method of community-building, saying that she hopes it "connects more JOC together… [through] events surrounding the cookbook: JOC dinners, people demonstrating their recipes."
But Chandler is very clear that this cookbook isn't simply her own. "I'm only going to submit one recipe, but we want to have a hundred recipes," she said. In an effort to reach the goals of hundreds of recipes, Tlaim is currently accepting submissions.
Why should you submit? "Because" as Chandler clarifies, "a lot of Jews of Color might feel isolated and could really resonate with your experiences. It's also important to call out problems that you might see in the community, so we can be more welcoming for future generations. And it's always a good thing to share more wonderful food into this world!"
If you identify as a Jew of Color and have a recipe and piece of poetry, art, or writing you want to share with the world, visit globaljews.org/projects/tlaim to submit today.