November 4, 2021
Celebrating Seven Years of Organizing for Justice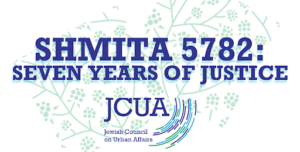 The Hebrew year 5782, in which we find ourselves, is a Shmita year. Just as we sanctify the seventh day of creation with Shabbat, the Torah commands us to set aside every seventh year for rest, renewal, and redistribution.
During the Shmita, agricultural lands lie fallow, debts are forgiven, and shared resources become freely accessible. In our modern, post-agrarian society, we can observe the Shmita by reflecting on our last seven years of work. We've planted seeds of justice, nourished them through times of hardship, and are seeing them grow in beautiful, unexpected directions.
Seven years ago, when the last Shmita cycle began, JCUA adopted an organizing model to advance racial and economic justice. With your collaboration and participation, we've built an institution that mobilizes a multiracial, intergenerational, and pluralistic Jewish community to take action on the most critical issues facing our city and state. Today, we're more powerful, diverse, and determined than ever.
Last winter, our Immigration Justice coalition celebrated the passage of an amended Welcoming City Ordinance, capping off a five-year campaign to protect undocumented communities in Chicago. In the spring, our members led a campaign selection process that created a new Housing & Economic Justice committee that has taken on the Bring Chicago Home campaign. During the summer, we reached a major milestone with the passage of the Empowering Communities for Public Safety (ECPS) ordinance, which gives Chicago the most powerful system of civilian oversight in the country.
JCUA bolstered staff capacity for the Kol Or Jews of Color Caucus and Youth Engagement programs for teens and young adults. We expanded our Community Ventures Program to seed more affordable housing and economic development projects. We continue to build powerful, progressive leaders of the Jewish community through training and political education programs for our members and Congregation Partners.
Alongside our successes, we faced our share of hardships in 2021, from persisting injustices and suffering to the more personal loss of JCUA founder Rabbi Robert J. Marx (z"l), who died during Passover at the age of 93. Rabbi Marx was a once-in-a-generation leader who more than 57 years ago planted and nourished the seeds for the organization we are today. May his memory be a blessing.
As we prepare for JCUA's next cycle of growth and impact, we invite you to make a meaningful end-of-year gift. Your partnership and sustained investment in our pursuit of justice is vital to make our work for a better world possible.
With warm personal regards and deep gratitude,
Judy Levey, Executive Director