November 18, 2020
How JCUA built its power for economic justice with the Fair Tax campaign
We are so proud of what our community accomplished and the power we'll carry forward.
When JCUA members voted overwhelmingly to take on the Fair Tax campaign, we knew it would be difficult. Voters don't trust Illinois lawmakers. The ultra-wealthy would do what they can to prevent tax increases. The dominant narrative in our society holds that all government intervention is bad and all individual wealth is good.
Despite everything we were up against, we never shied away from this difficult undertaking. Indeed, JCUA selects campaigns that are controversial and challenging because we understand that meaningful social change requires transformation at the foundations of our political and economic systems. Fair Tax offered us that opportunity.
As we reflect back on the last 14 months of the campaign, we are astounded by what the JCUA community accomplished and the power and momentum we'll carry forward.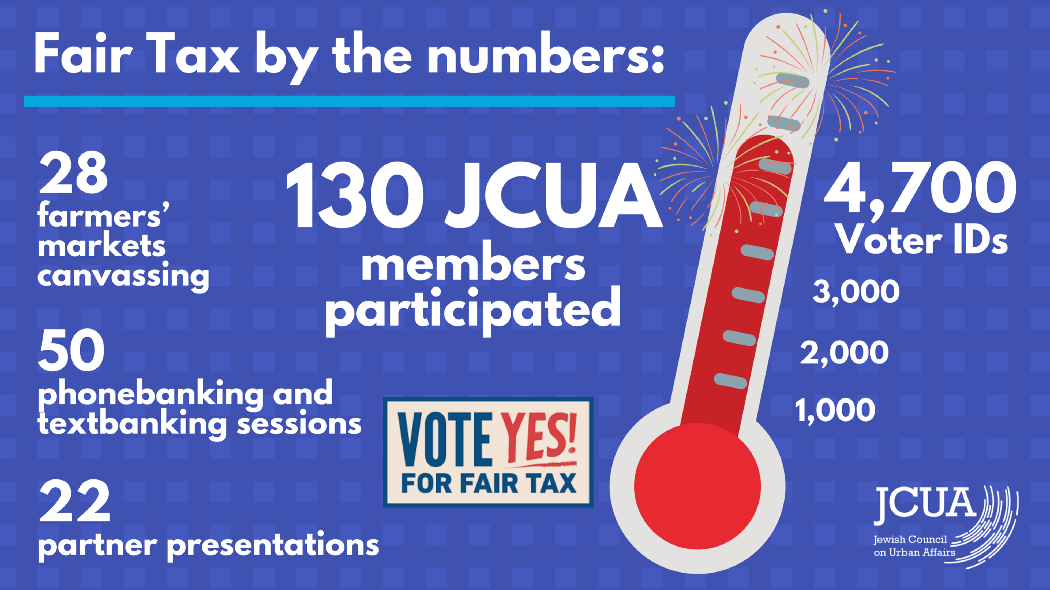 We identified 4,700+ Fair Tax supporters across the state, smashing our initial goal of 2,800
We collected 768 signatures on the JCUA virtual pledge card
We organized 50 phone and text-banking sessions between April-October 2020
We canvassed at 28 farmers' markets in the city and northern suburbs
We gave 22 presentations about Fair Tax at congregations and institutions
We got out the vote with 15 phone-banking sessions and 48 canvassing shifts
We engaged more than 130 JCUA members in the campaign
When we began working on Fair Tax in Fall 2019, JCUA organizers and members developed an ambitious field plan to reach voters through presentations, in-person canvassing, and digital engagement. This was our first undertaking at a field campaign.
The goals of early organizing efforts were to educate voters about the Fair Tax referendum and inspire them to become advocates in their own communities. Some JCUA members got creative with their outreach efforts, like Naomi Ramsay, Julia Rabin and Abby White, who hosted a Fair Tax-themed Shabbat dinner together.
"My all-time favorite organizing tactic was hosting people at my apartment for a Fair Tax Shabbat," Naomi said. "I was able to host this with other JCUA members, which helped us form a friendship grounded in our shared values. We had such great engagement from our guests who all signed pledge cards and were activated to take part in organizing their communities around Fair Tax!"
When COVID-19 disrupted our daily lives, it forced JCUA to rework and redesign our field plan. With in-person canvassing and presentations out of the question, we took to our computers, prioritizing remote forms of voter outreach like phone and text-banking. From April to October, JCUA hosted 50 phone and text-banking sessions, where members conducted thousands of one-on-one conversations with voters to answer questions about the Fair Tax and convince them to vote "Yes."
All the while, JCUA was working in collaboration with dozens of community organizations across the region in the "Vote Yes For Fair Tax" coalition. As part of the coalition, we set a goal of collecting 2,800 positive voter IDs. Because of the flexibility and persistence of our community in the face of COVID, we gathered 4,700 IDs.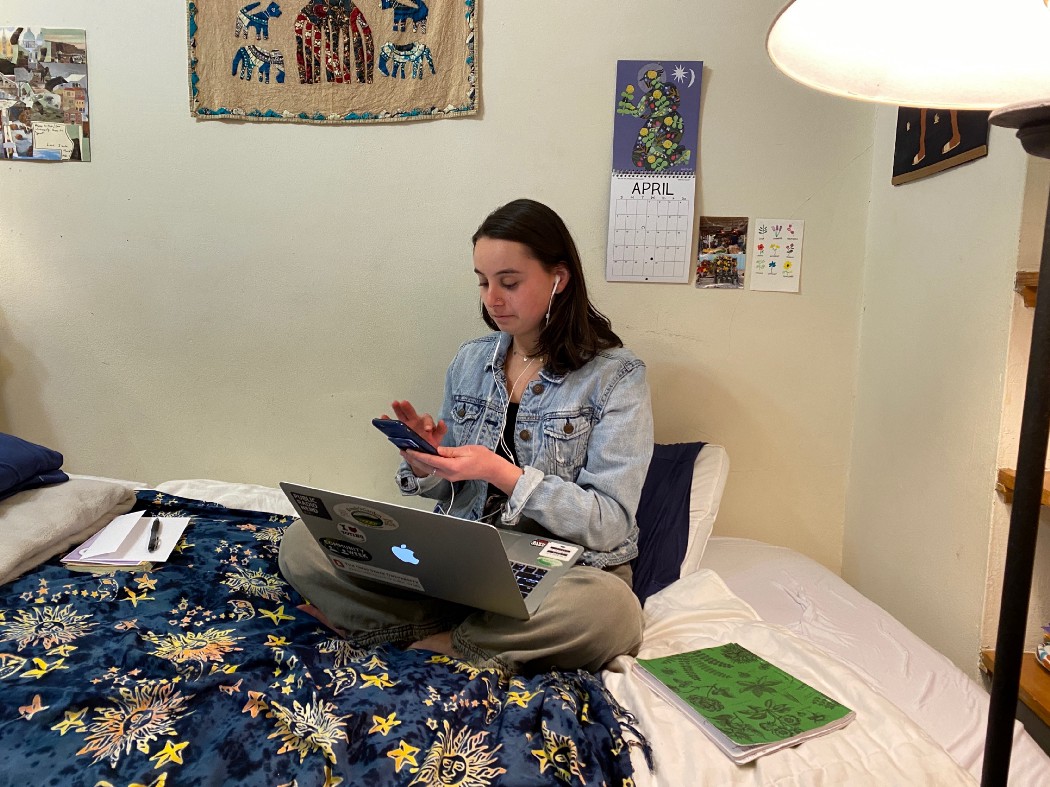 "It was the most phenomenal team effort, with everyone coming together to be creative, inclusive, and share amazing ideas," said Jackie Baldwin, a JCUA community organizer who helped spearhead the campaign. "With COVID, we found ways to work with every part of our community and found ways for everyone to participate."
JCUA engaged powerful new leaders in the Fair Tax campaign. JCUA youth leaders, including participants in the Or Tzedek Teen Internship and College-Aged Organizing Fellowship, as well as JCUA's new Youth Organizing Caucus, became deeply involved in the campaign by hosting Youth Days of Action, phone-banking sessions, and other outreach events.
"The Fair Tax campaign allowed me to grow in ways I could never expect," said Helen Lerner, a JCUA youth leader and participant in the campaign. "I have always been interested in social justice, but struggled to understand economics as a young person who isn't financially involved. Advocating for Fair Tax has taught me that economic justice is social justice. I am so lucky to work with the people I did on the campaign, you have all taught me so much. I will use this experience for the rest of my life."
Additionally, the Fair Tax campaign helped build JCUA's base in the north suburbs and the northwest side of the city, where the leaders we mobilized will continue to play an active role in our work.
In campaigns to transform political and economic systems, organized people seeking change must often contend with ultra-rich opponents working to maintain the status quo. For Fair Tax, it was painful to see our work suppressed by advocacy and media efforts spreading misinformation about the impacts of the referendum. With the loss on Fair Tax, billionaires will continue to pay the same income tax percentage as teachers, nurses and essential workers, and our state must subsequently find new ways to generate revenue amidst this economic crisis — likely by raising taxes on everyone.
The loss hurts, but we have so much to be proud of. JCUA far surpassed our outreach goals and built up a community of leaders who will be a force in future campaigns for economic justice. We demonstrated that JCUA can take on an ambitious field campaign, and we developed organizing skills and tactics that will prepare us for the fights ahead. We reaffirmed our commitment to mobilize the Jewish community around initiatives that create a more just and equitable state for all people.
We thank everyone who volunteered and participated. Let's continue the fight for economic justice.