May 11, 2023
Meet Acts of Change Honoree Brother Mike Eldridge
Each year at Acts of Change, we present the Miriam Award for Inspiring Community Leadership to remarkable JCUA members.
On June 6, 2023, we are thrilled to recognize the achievements of Brother Mike Eldridge, whose instrumental leadership in our organizing campaigns and bridge-building has a profound impact on our community.
Please join us in celebrating him by purchasing tickets or sponsorships to Acts of Change.
About Brother Mike
Brother Mike grew up with his aunt in the Albany Park neighborhood of Chicago, where they celebrated Jewish holidays at home. Around the time of his Bar Mitzvah, he became active in an Orthodox synagogue called Young Israel of Chicago, and for the last 14 years, Mike and his wife Maricar have been members of Beth Shalom B'Nai Zaken Ethiopian Hebrew Congregation in Chicago Lawn.
At the encouragement of Beth Shalom Rabbi Capers Funnye and his wife Maricar, Brother Mike joined JCUA in 2015, just as the organization was becoming more member-driven and organizing-focused.
He began working on the campaign to create a Level 1 Trauma Center at the University of Chicago, in which JCUA members mobilized support across the Jewish community, even as we faced backlash from pressuring the university's Jews in leadership. In 2015, because of the work of Mike and many others, our coalition secured a commitment from the University of Chicago to open the center. Today, it serves as a vital hub for lifesaving health care on the South side.
Mike became deeply engaged in the campaign for police accountability through his work with JCUA, Southwest Organizing Project (SWOP), and the Grassroots Alliance for Police Accountability (GAPA). Mike was part of the thousands-strong community coalition who led the 2021 passage of the Empowering Communities for Public Safety (ECPS) ordinance, which created the strongest system of civilian police oversight in the United States.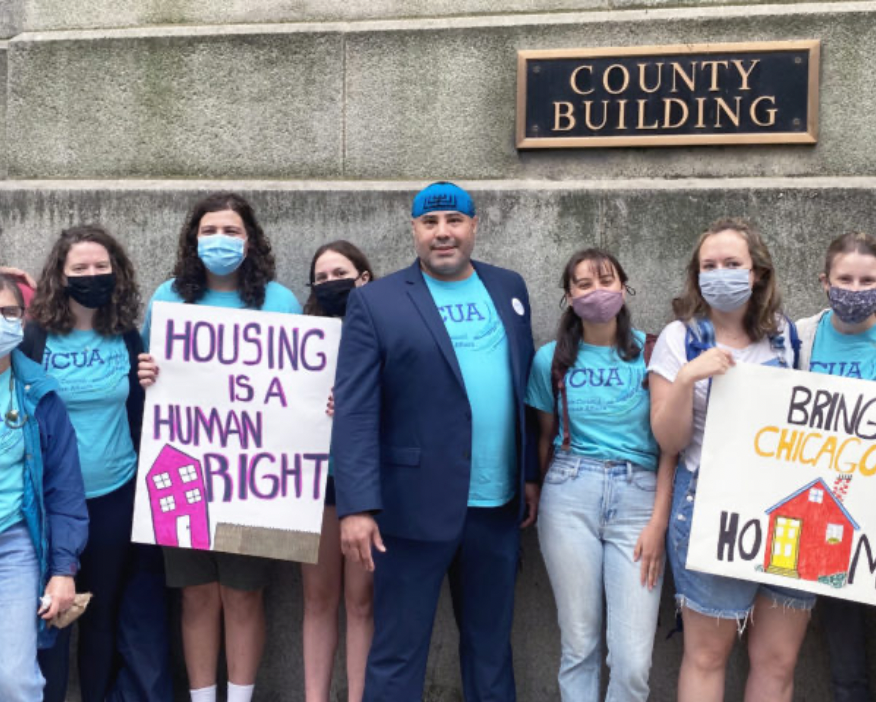 Brother Mike is now an instrumental part of Bring Chicago Home (BCH), JCUA's campaign to address homelessness by generating millions in revenue for permanent supportive housing. As someone with personal experience of homelessness, Mike has taken a leading role in the campaign, which has led him to emcee press conferences, facilitate town halls, and represent BCH in meetings with Mayor-elect Brandon Johnson.
In addition to his organizing work, Mike is a founding member of the Kol Or Jews of Color Caucus. Through his leadership in Kol Or, Mike has supported the growth of a welcoming and affirming space where Jews of Color feel supported and encouraged to take on leadership roles within JCUA.
Mike has created deep relationships with Kol Or members and helps plan community events including the annual Kol Or Juneteenth Havdalah. Last year's celebration welcomed 100 people at Marquette Park where Dr. Martin Luther King Jr. and JCUA founder Rabbi Robert J. Marx once marched together. Mike's passion and zeal has made a lasting impression on everyone he touches through his community work, including Kol Or members, staff, and fellow leaders.
In addition to his work with JCUA, Brother Mike volunteers and serves on the Board of Maot Chitim of Greater Chicago, an organization that delivers food and other necessities so those in need can celebrate Jewish life with dignity and joy.
Brother Mike lives in Portage Park with his wife of 16 years Maricar Rubio and their three children Mark Rubio Dingal, Michaelangelo, and Makayla Yudith, who often join him at JCUA events and programs. He is a driving force within our community, and we are so proud to present him with the Miriam Award for Inspiring Community Leadership at Acts of Change on June 6, 2023.