March 24, 2023
Meet Sam, JCUA's new Housing Justice Fellow
Greetings, JCUA community!
My name is Sam Rose, and I'm the new Housing Justice Fellow for JCUA. I've been a member since I was 16, and I'm so excited to take on this role for the next six months — in which I'll be supporting our Bring Chicago Home campaign and building the base of our Housing & Economic Justice Committee.
One of the goals for my time here is to build relationships with Jews who have experiences of homelessness, housing insecurity, and economic hardship. I would like to share a story about why this work is important to me.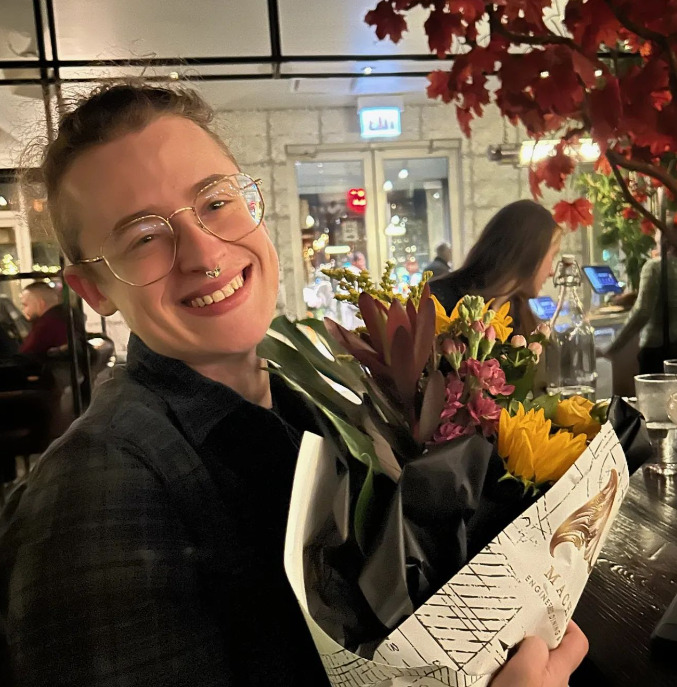 I recently had the opportunity to lead a listening session that posed a central question: "When do you experience the brokenness of the world?" The folks together in the room responded with a variety of answers — from the personal feelings of helplessness when loved ones suffer to the broader struggle against systemic injustice. At the end of the story sharing, we had sunk into ourselves, hunched against the weight of our own pain.
But then, something magical happened. Participants began sharing with each other their visions of a better world, a world in which we can be present for individual pain and powerful in the face of injustice. As a community, we were able to hold each other up. As our psalmist Ezra Furman puts it, "we are sustained by our yearning and by our brokenness."
I organize for housing justice because I couch surfed for a year in high school. I organize for housing justice because the people who are most dear to me have lived experiences of homelessness, of doubling up, of housing our homeless loved ones, of losing their homes or being threatened with the loss of their homes.
I do this work in a Jewish context because of my belief in God, and I do this work in a Jewish context because Jewish communities have sustained me through the hardest times in my life, and I do this work in a Jewish context because Jewish communities have a long way to go until we are truly inclusive and welcoming to Jews with these lived experiences.
Outside of organizing, I am an artist, writer, and Jewish educator. I'm excited to bring my passion for zines and all things creative to my work here! In the fall, I will be pursuing a Masters of Divinity at the University of Chicago.
I'm looking forward to getting to know many of you in the coming weeks and months. You can reach me at sam@jcua.org