September 24, 2021
Sukkat Shalom – 18 Days for Housing Justice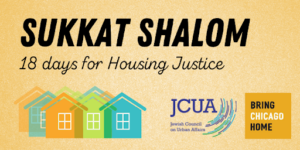 Tonight we welcome Sukkot — a holiday that commemorates our wanderings through the Sinai desert. Following the Exodus, the Jewish people sought shelter in temporary dwellings called sukkahs, which today serve as symbols for the transience and fragility of life.
JCUA always looks to Jewish history to inspire our work. We ask ourselves what our ancient and modern experiences teach us about standing in solidarity with communities facing hardship and systemic oppression.
In this spirit of remembrance and justice, we're filled with nachus ("pride and joy") to announce an 18-day fundraising effort to advance housing justice alongside the Bring Chicago Home coalition.
<< Double the impact! Donate today! >>
More than 86,000 people in Chicago are experiencing homelessness. While many reside in shelters, many more are forced to double up, couch surf, relocate, and find other ways to stay off the streets. Poor Chicagoans, Chicagoans of color, and other marginalized people are struggling with housing insecurity, and rising rent prices and job losses from COVID-19 are only intensifying the crisis.
<< Support JCUA's AND Bring Chicago Home's work to end homelessness in Chicago >>
Yet our city is failing to respond. Chicago ranks 10th of 11 of large U.S. cities in spending per person experiencing homelessness — lagging significantly behind cities like Boston, San Francisco, and Seattle.
It is time that we come together to demand systemic, transformative housing solutions for Chicagoans facing homelessness and housing insecurity.
Thankfully, we have an effective way forward. Together with a strong community coalition, JCUA is working to win the Bring Chicago Home (BCH) campaign. BCH addresses Chicago's housing crisis by creating a dedicated revenue stream for permanent supportive housing — the proven solution to homelessness — using money generated from a progressive Real Estate Transfer Tax. Learn more.
This campaign will require both organized people to canvas residents across the city, meet with legislators, and more; AND organized money to fund an operation that can win.
That's why, as JCUA celebrates Sukkot, we've launched an 18-day fundraising effort to support Bring Chicago Home. For any donation you make to JCUA over the next 18 days, half of your contribution will be delivered to the BCH coalition to fund our work together.
<< Celebrate Sukkot by ensuring all Chicagoans have access to safe and affordable housing>>
Are you interested in leaning more about BCH? Then join us this Sunday, September 26 at 4:00 pm, for a special Sukkot event at Emanuel Congregation in Edgewater, where we'll explore the state of housing justice in Chicago and learn about how to get involved in the Bring Chicago Home campaign. Register here, and contact DD Klionsky, JCUA Membership & Engagement Coordinator (dd@jcua.org), with any questions.