November 4, 2021
This Moment Requires Action For #CITIZENSHIP4ALL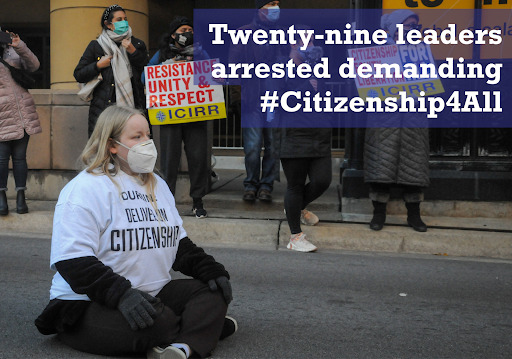 Yesterday morning, the Illinois Coalition for Immigrant and Refugee Rights took to the streets of Chicago to demand a pathway to citizenship for all 11 million undocumented immigrants in the United States. JCUA members and staff — together with immigrants and allies — sat down in the middle of Ida B. Wells Drive outside the ICE headquarters, where we blocked rush hour traffic for an hour and a half until CPD intervened and arrested all 29 of us.
This moment requires disruptive action. Democrats in Congress have promised immigration reform for decades, and right now they have the power to follow through. We specifically targeted and demanded support from Illinois Senator Dick Durbin, who has the influence within the Senate Democratic caucus to deliver on the promise of a pathway to citizenship.
The JCUA members and staff who participated in the sit-in and were arrested demanding #Citizenship4All also included Rabbi Andrea London, Rabbi Ike Serotta, Rabbi Suzanne Griffel, Beth Lange, Marc Hilton, Becca Lubow, and Anna Rubin.
"Parole in place" is not enough. Work authorization is not enough. Empty promises are not enough. We are continuing to demand permanent immigration solutions in the Build Back Better reconciliation package. Our leaders in Chicago are joined by organizers and immigrant leaders in 11 cities around the country making their voices heard in the streets.
My great-grandparents died at Auschwitz waiting for the United States to give them refuge. I'm tired of waiting. It's time for Citizenship For All, and like we shouted at the sit-in: "if we don't get it, let's shut it down."