Bring Chicago Home
A campaign to provide housing and wraparound services for the 65,000 people experiencing homelessness in Chicago.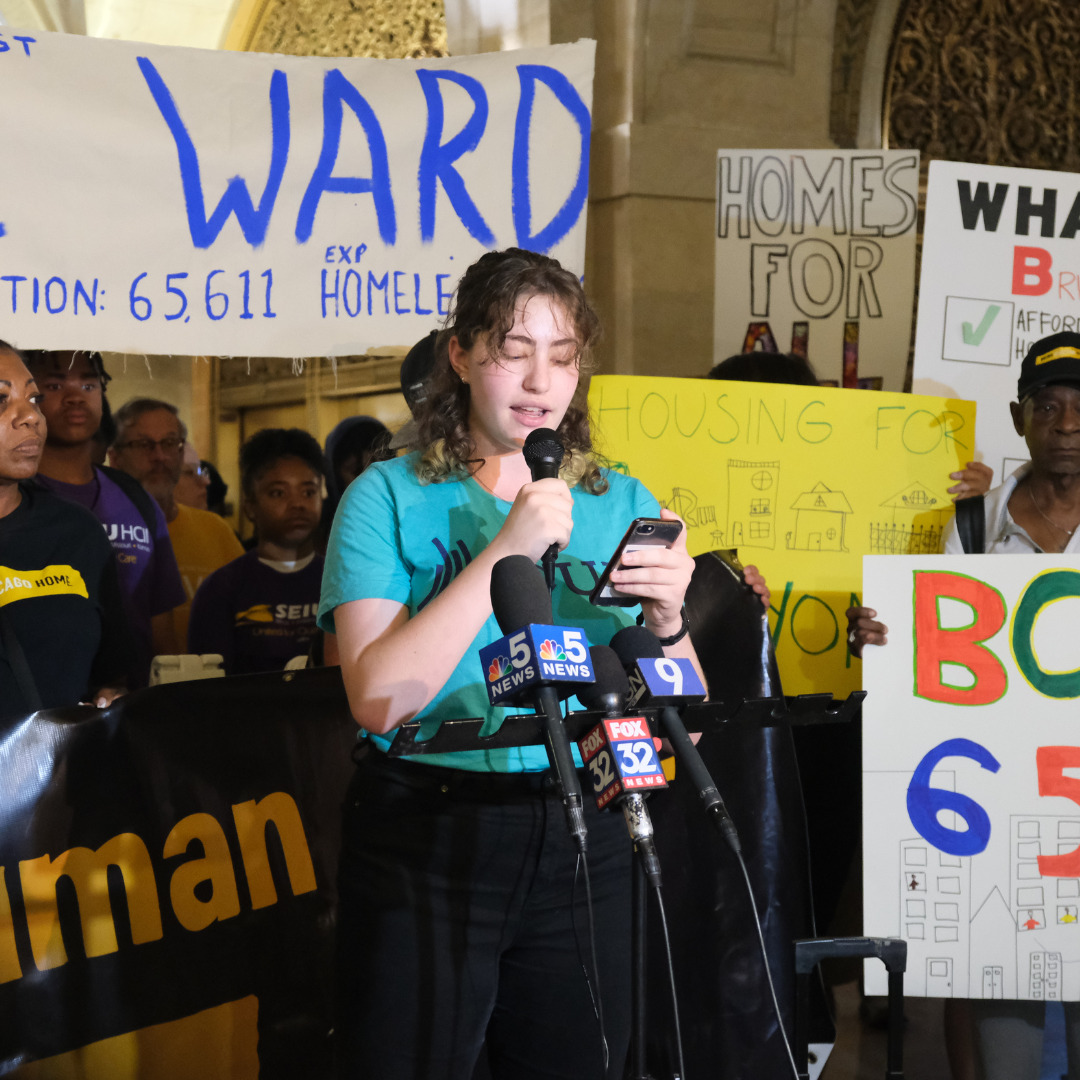 Background
The Chicago Coalition for the Homeless estimates that 65,000 people, including 20,000 children, are currently experiencing homelessness in Chicago. To make matters worse, our city lags far behind other major cities in spending on homelessness.
We need a long-term, "housing first" solution that provides relief to our neighbors and addresses the root causes of homelessness. Bring Chicago Home is that solution.
It would increase the one-time tax levied when properties valued at more than $1 million are bought and sold. This would apply to less than 5 percent of property transactions, but would generate approximately $160 million in new revenue each year that would be dedicated to funding affordable housing and supportive services like mental health counseling and job training.
JCUA is one of six organizations — including Chicago Coalition for the Homeless, ONE Northside, United Working Families, SEIU Healthcare, and Communities United — leading the grassroots campaign to Bring Chicago Home. We are anticipating a vote in City Council this fall, which will trigger a ballot referendum for BCH during the March 2024 primary.
To learn more about getting involved, contact Community Organizer Jimmy Rothschild (jimmy@jcua.org)
Resources
"Bring Chicago Home takes City Council" — JCUA Blog

"Proposal to Hike Taxes on Sales of Million-Dollar Homes to Fight Homelessness Gets City Hall Spotlight" — WTTW

"Housing Justice Organizing at JCUA" — JCUA YouTube

"Mary Tarullo and Bradley Sanders on the Bring Chicago Home campaign" — JCUA Blog
Campaign Updates
The BCH coalition

met with the Mayor's office

and approved changes to the legislation, creating a tiered marginal rate for the real estate transfer tax. 

We hosted a

Subject Matter Hearing and rally

at City Council on July 27, testifying about why we need to pass Bring Chicago Home. 

The

People's Unity Platform met with Mayor-elect Brandon Johnson

on May 1 about co-governance and strategized about how to make Bring Chicago Home and all of the PUP priorities a reality

In his inaugural address, Mayor Johnson reaffirmed his commitment to addressing Chicago's homelessness crisis through Bring Chicago Home.

BCH held a

People's Hearing

on March 12, 2023 to demand that the next mayoral administration take action for unhoused Chicagoans.

JCUA youth member Dalya Lessem Elnecave took the lead as the People's Mayor

, leading hundreds of coalition members, supporters, and elected officials through the program. JCUA board member Steve Rothschild presented testimony on the health risks of homelessness, and Housing Justice Fellow Sam Rose led a breakout group on art-making as a protest. Mayoral candidate Brandon Johnson, along with other elected officials, attended and affirmed their support for BCH.

BCH and JCUA joined the People's Unity Platform, made up of unions, faith-based groups and community organizations advocating for a comprehensive vision for Chicago that includes campaigns for housing, healthcare, fully funded schools, and healthy neighborhoods.

Brother Mike Eldridge represented JCUA and BCH

at the PUP Mayoral Forum on January 26, where every mayoral candidate agreed to support Bring Chicago Home besides Paul Vallas.

On the second night of Hanukkah (December 19, 2022), we joined our partners in the Bring Chicago Home coalition for a powerful

rally

, calling on Mayor Lori Lightfoot to meet us at the table. Gathering outside Mayor Lighfoot's Logan Square home with over 100 partners, we let her know that 65k still need a place to stay, even more important as we headed into a dangerous winter storm that week.

The Bring Chicago Home coalition reintroduced the measure on December 14, 2022, after falling one City Council member short of a

vote

in November and passing the original December 11 deadline.