June 1, 2023
Immigration victories with help from Or Tzedek teens
JCUA and our partners in the Illinois Coalition for Immigrant and Refugee Rights (ICIRR) recently finished another successful legislative session in Springfield. This year, we advocated for the passage of important new policies and the expansion of existing policies that protect and empower immigrant families across our state.
Our members brought a distinctly progressive, Jewish voice to bear upon the conversation. We held dozens of meetings with Illinois Senate and House legislators, where we secured commitments of support for our coalition's #EverybodyIn platform for 2023.
At the close of the session, we are proud of our coalition's big victories, including:
Medical Debt Bill:

Black, brown, and immigrant communities are disproportionately impacted by medical debt due to insurance barriers and ineligibility for coverage. This bill requires hospitals to screen people for eligibility for discounted care programs and state coverage before billing them, and help them apply. The very powerful IL Hospital Association initially opposed this, and ended up needing to negotiate with ICIRR and supported the bill because of the power we built.



Driver's License Bill:

Immigrants access to a regular IL driver's license or state ID instead of temporary permits that reveal their immigration status, regardless of documentation. This will mean more people will have access to valid, non-federal IDs.



Immigrant Services Line Item (ISLI):

We secured $38 million in the state budget, and have $20 million in additional federal funding. We met our goal to fully fund services for immigrant communities and asylum seekers! The Immigrant Service Line item provides funding for direct cash assistance to immigrants, citizenship application assistance, English classes, DACA and citizenship application fee waivers, and resource navigation for immigrants throughout Illinois.



Childcare funding:

Secured 20% increase in investments in childcare in the state budget.
JCUA youth organizers were heavily involved in our success in Springfield. Each year, our Or Tzedek teen cohort selects one of JCUA's grassroots campaigns to work on. Past cohorts worked on our Fair Tax, Erase the Database, and Bring Chicago Home campaigns. This year, teens chose to work on immigration justice and were instrumental parts of our JCUA's organizing efforts in Springfield.
As the legislative session came to a close and Or Tzedek reached its final sessions, we asked two youth members to reflect on their experiences and what they've gotten out of this year of learning.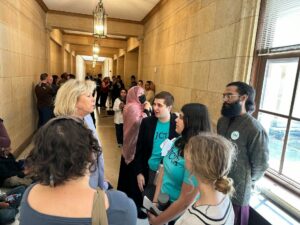 MOLLIE G:
In recent years, it has been increasingly difficult to feel positive about the state of the world we inhabit. It seems as time passes, the feeling of hopelessness and helplessness becomes more and more overpowering.
Being a member of JCUA's Or Tzedek group has helped me to break that mental barrier. Teenagers in the social-justice world are hard to come by, though they are integral to the work we have to do. Or Tzedek has become a platform for teens and young adults to channel their energy towards making an impact, and my experience so far has been life changing. I can feel the impact being made as we proceed through the year – our choice to focus on immigration has been no different. 
Advocating for Immigration Justice with JCUA was both empowering and impactful. During the Or Tzedek retreat, our cohort seemed to wrap around the ICIRR platform pretty quickly – an experience foreign to me as someone prolonged the selection process by an hour the year prior. Our consensus process finished in record time, which might tell you something about the energy and excitement our group has towards this platform. 
Lobbying in Springfield felt like the perfect culminating experience to the work this group has done all year. Our lessons on advocacy and strategy were now coming in full swing. I had never been to Springfield before, and I'll be the first to admit that it was intimidating at first. Knowing that you are in such a power-concentrated area is overwhelming, but it is also incredibly empowering. During my time speaking during the rally, I could feel the energy of my peers coming together. We all shared a cause, a common motivation, a communal anger that fueled our drive. Looking out into a crowd of people who are directly impacted by ICIRR's platform, standing hand in hand with those looking to help, was moving, and it framed my goals for the rest of the day. 
Speaking with my state's senators and representatives was an experience like no other. My prior feelings of hopelessness had finally battled their enemy: my voice. As I spoke with legislators, I strayed further and further from the idea that there is nothing we can do. In voicing my anger to legislators, I chipped away at the ever-growing mountain of problems that need to be solved, though this time, I was optimistic. 
I know that the multitude of work that lies ahead cannot be solved in five hours at the Capitol. But Or Tzedek has taught me that through consistency and drive, we can begin to take down and remold the world into one that we are proud to be a part of.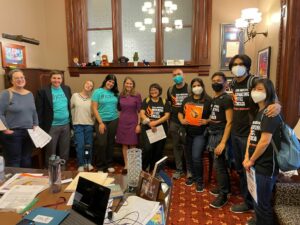 LINDSEY A:
As a senior in high school, it is easy to feel hopeless about the state of the world and our country. Like many teenagers, I have been left desperate for change. I have wanted to take action but lacked direction on how to do so. JCUA has been an incredible way for me to help contribute to positive change among a community of similarly motivated teens and adults.
In Or Tzedek, our discussions about big issues in Chicago such as immigration, homelessness, antisemitism, and the environment leave me feeling enriched and optimistic that there are other people my age who also care deeply about how we can promote positive reform in these areas. It was similarly fascinating to watch us in Or Tzedek all come together around our excitement in selecting immigration as our main topic of focus for the year.
Lobbying in Springfield was another immensely meaningful learning opportunity. It was breathtaking to walk into the front doors of the Capitol and take in the splendor of the building and the air of possibilities and opportunities surrounding us. Passing fellow ICIRR members in the hallway was uplifting, I felt moved and encouraged as I was surrounded by people all fighting for the same essential cause. It was also exhilarating to secure support on our critical medical debt and drivers license bills from my own state Senator after running to flag her down in the hallway to the Senate chamber.
Moreover, the more legislators we talked to as the day went on, the more I felt that we were taking action to create real, meaningful change in Illinois. Being taken seriously by those who govern us was refreshing and inspiring, and I left the Capitol feeling more hopeful than I had in months in my power to foster positive change.
Furthermore, it was especially meaningful to open my email to see that my state Representative, Bob Morgan, had sent me a personal follow-up message regarding the note I left for him in Springfield. It was incomparably rewarding. It felt as if, thanks to JCUA, I was able to leave a real mark on my legislators, and by extension, on our state.
Another outstanding feeling was hearing that the medical debt bill passed in the state Senate just two days after I helped lobby Senators about it. The impact feels tangible, and it motivates me to take further action. Because there is still so much more work left to do, and more positive change to enact, and it will never happen unless we continue putting in the work to talk to our legislators and push for agendas of reform.
While all of this work lies ahead, I can go forward with confidence and inspiration from my work with JCUA, Or Tzedek, and ICIRR in helping me see how much of an impact we can make while working together.
Applications are open for the 2023-24 cohorts of JCUA's youth organizing program Or Tzedek (for high school students, ages 14-18). If you would like more information or recommend someone, please fill out the interest form for Or Tzedek.