July 27, 2022
Welcoming Rabbi Steven Philp to the JCUA Board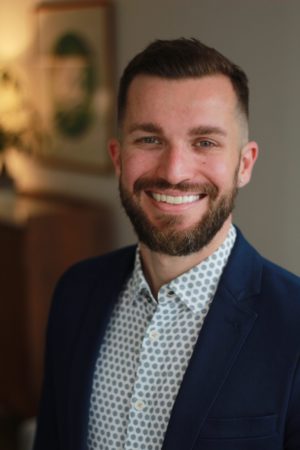 Rabbi Steven Philp is an Associate Rabbi at Mishkan Chicago, a spiritual community reclaiming Judaism's inspirational and transformative essence. He is currently a Rukin Rabbinic Fellow with 18Doors.
Steven was ordained in 2019 by the Jewish Theological Seminary; he was a recipient of the Wexner Graduate Fellowship. After graduation, he served as the Rabbinical Fellow at Park Avenue Synagogue in New York. Steven also received his M.St. in Jewish Studies from the University of Oxford in 2016, his M.Div. and M.S.W. from the University of Chicago in 2014, and graduated summa cum laude from the University of Southern California in 2010, where he received a B.F.A. in Studio Art and a B.A. with Honors in English (Creative Writing) and International Relations. While a student at JTS, he served as a rabbinical intern for the University of Maryland Hillel and Congregation Beit Simchat Torah, the LGBTQ synagogue of New York City. Steven has written for publications like Hey Alma, The Forward, and Jewschool, contributed to the books "Chaver Up" and "Choosing a Jewish Life," and has been featured in Tablet Magazine.
Steven grew up in California and Hawaii, as a Roman Catholic with a strong Methodist heritage. He became passionate about interfaith work while in college, a path that eventually led him to become part of the Jewish community. Steven lives in Boystown with his cat, Miso.
How did you get involved with JCUA and what have you been working on?
I was first connected to the JCUA through Mishkan and our social justice teams. Two of the teams – our Economic Justice Team and Public Safety Team – are working on campaigns that the JCUA is supporting (Bring Chicago Home and ECPS, respectively). I was also asked to sit on the Interfaith Roundtable for Bring Chicago Home, and helped plan our multifaith learning event in December 2021. I am excited to deepen my relationship with the JCUA by serving on the board.
What has been the most fulfilling part of your work with JCUA?
Being part of an organization that puts the core values of Judaism – the call to repair the world, concern for the most marginalized, an unwavering commitment to justice – into tangible action!
How do you view the connections between Judaism and social justice?
Judaism emerges from a place of empathy: we understand the soul of the stranger having been strangers ourselves (Exodus 23:9). Each of us has a piece of ourselves that feels like it does not belong; yet it is from this sense of otherness that we are able to recognize those who are pushed to the margins of society and bear witness to the fact that all people are created b'tzelem Elohim, in the divine image. Our wounds – as people and as a people – become a source of strength, commanding us to correct injustice wherever we might encounter it.
What is your favorite thing about Chicago?
I love the rich and distinctive character of each neighborhood (I live in Boystown, and adore being so close to robust LGBTQ+ and Jewish communities). And people are so friendly! I have only been here a year and am already surrounded by an amazing family of choice.
What is one thing people would be surprised to learn about you?
I have a lot of passions that people often think are incongruous. On a given evening you might find me teaching a class, attending (or leading) services, exploring a new neighborhood, lifting weights at the gym, chilling with my cat and Nintendo Switch, or out dancing at a club.