September 3, 2021
Happy New Year! In 5782, let's transform Chicago together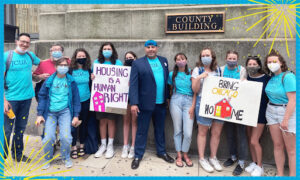 As we welcome Rosh Hashanah and the beginning of the Hebrew year 5782, I am writing to wish all of you — our beloved JCUA members, supporters, partners, and allies — a sweet and meaningful year ahead.
We're fortunate that the Jewish calendar offers a season for introspection and reflection, urging us to take stock of our lives and set the tone for the year to come. It's a moment to ask big questions: why are we striving to create a just and equitable Chicago and beyond, centering Jewish values in our work?
It is because we know our history. We know our ancestors' liberation from oppression was not a conclusion to the Jewish story, but a point of departure. Ever since, we've been commanded to safeguard the dignity, economic security, and inclusion of people on the margins of our shared society.
JCUA founder Rabbi Marx (z"l), whom we lost earlier this year, understood this imperative. He wrote: "I feel that freedom is Judaism… I feel even more deeply that unless Jews … are involved in the crucial issues of the world, Judaism will not exist in future generations for our children and our children's children."
This clarion call to action — to see the relevance of Judaism in our own world and to listen deeply to communities facing structural oppression — is what guides JCUA today.
More than 50 years after Rabbi Marx co-created the Contract Buyers League to fight usurious lending practices on the South and West sides of Chicago, we are still facing the consequences of structurally racist housing policies, disinvestment, and unequal access to housing across the city.
Add to these trends the looming eviction crisis and rising homelessness — housing justice is at the top of our minds. JCUA is listening to what communities most impacted by housing injustice are saying, and we are responding.
JCUA is supporting the creation and preservation of affordable housing, employment, and community development through our Community Ventures Program

. Just last week, we helped to

celebrate the Grand Opening

of the Chicago Furniture Bank (CFB), where clients transitioning out of homelessness can handpick an entire home's worth of furniture for only $50. Thanks to JCUA's $200,000 zero-interest loan, CFB was able to relocate to its new large facility, where it can now increase its capacity and become the largest furniture bank in the country.

We are working to create systemic change through the

Bring Chicago Home

campaign

, which seeks to create a dedicated revenue stream to address homelessness in Chicago. To win this transformative ordinance for local families, we'll need to harness the immense power of our multiracial, intergenerational JCUA community.

Join us at our next committee meeting

.

To lift up this work, we're hosting a special

"Sukkat Shalom"

event on Sunday, September 26 at Emanuel Congregation in Edgewater, where we'll learn about the state of housing justice in Chicago and the Bring Chicago Home campaign. We'd love for you to join us.

You can register here

.
We hope that you cherish this season of reflection. We are deeply moved and spiritually enriched by the sense of accomplishment and purpose that comes from being in community with all of you.
Thank you for acting on your core Jewish values with JCUA as we greet the High Holidays and prepare ourselves for the year with a renewed spirit for transformative change.
L'Shana Tova U'Metuka.
With warm personal regards,
Judy Levey, Executive Director