June 7, 2023
JCUA's work is a cause for hope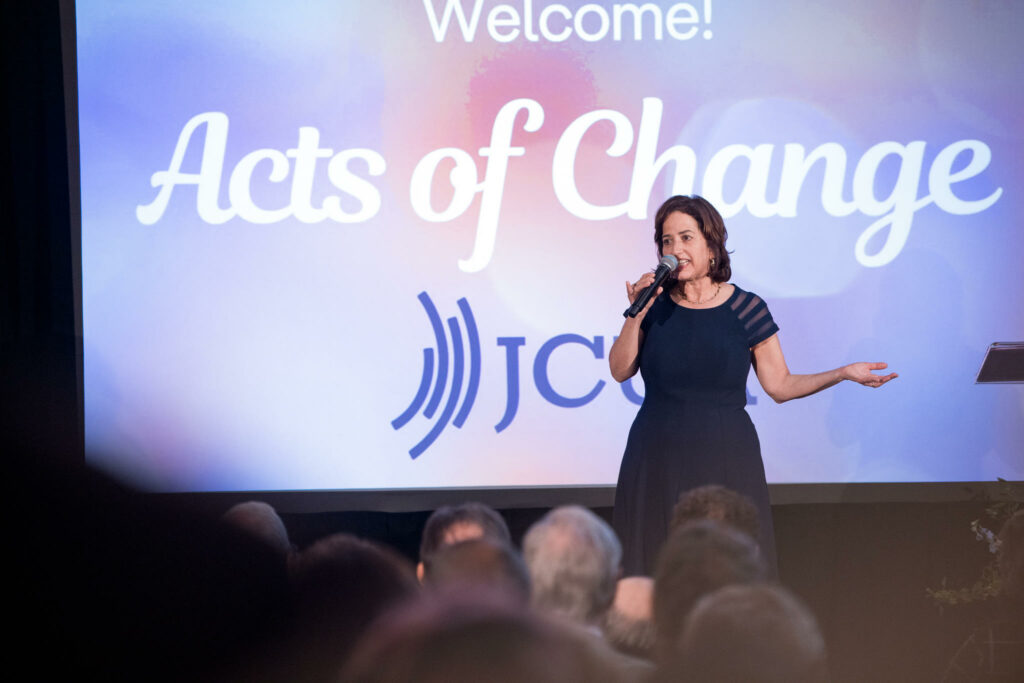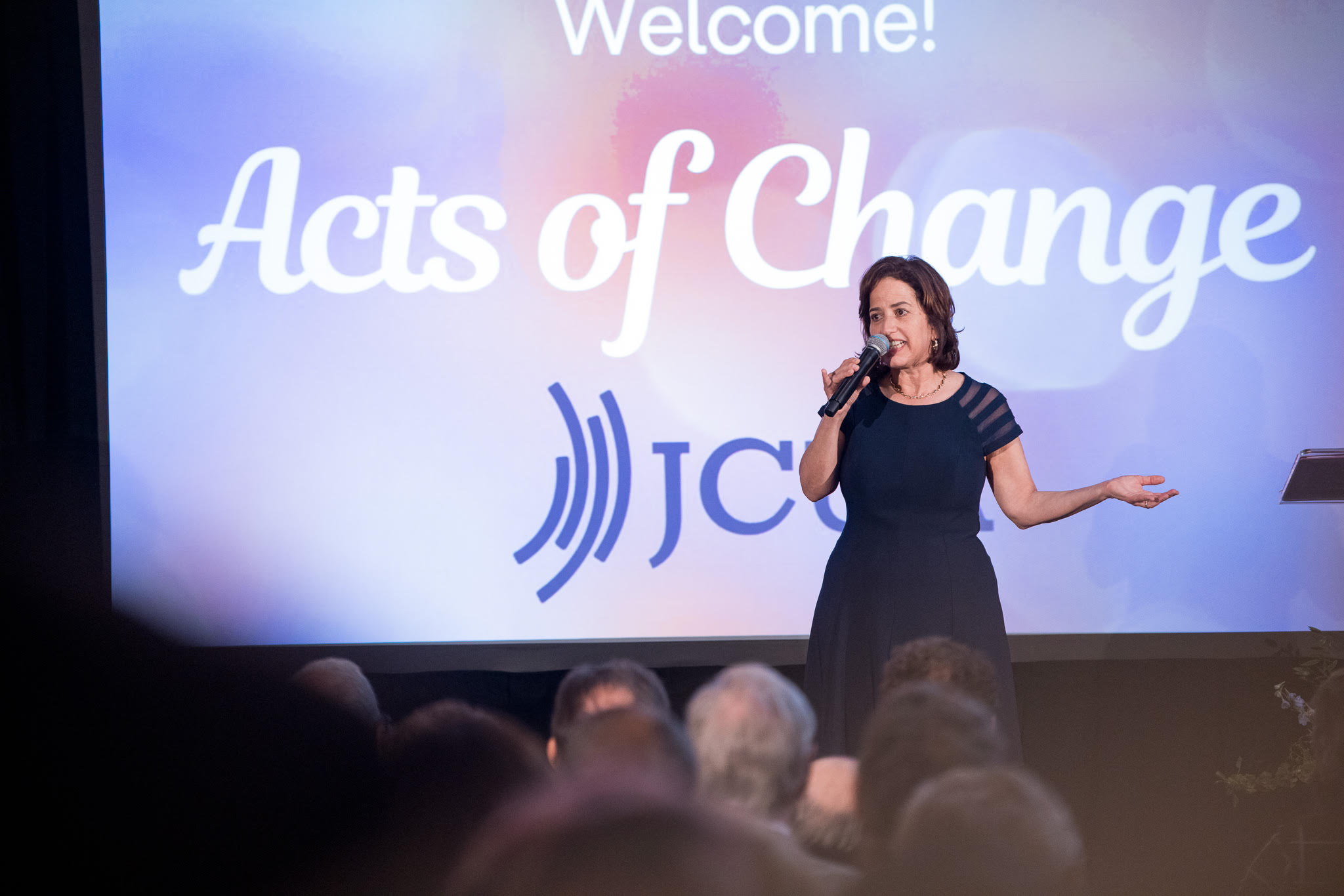 JCUA's Executive Director Judy Levey remarks for Acts of Change on June 6, 2023
Good evening, I'm delighted to see all of you tonight. 
We are here to celebrate JCUA — our fabulous honorees, our enduring impact, and most significantly, all of you – the individuals who make JCUA a strong and vibrant organization. The fact that we are thriving and relevant nearly 60 years after our founding is a testament to our decades of historic leadership, our deeply rooted values, and our inspiring vision.  
Our Jewish values ground us, guide us, and mobilize us to action. That is true today and in every generation.  
We all know that this is a challenging time across our country. The rise of right wing nationalism, antisemitism, and other manifestations of hate, as well as the assaults we are seeing on human rights —  present dangers that threaten our democracy and make us vulnerable. But tonight, I would like to speak about why I am hopeful for the future. As an organization, we do not believe in despair. We are powerful, connected, and experienced. We know how to organize for change.
Many of you remember in July of 2021 the Empowering Communities for Public Safety (ECPS) ordinance was passed. This year, we saw the fruits of our years of work to put community members at the center of public safety. We were key partners in the GAPA and ECPS coalitions working to make community oversight a reality. The 22 new District Councils working alongside the city-wide Civilian Commission are already bringing a new level of thoughtfulness and partnership to improving systems of policing and public safety. With historic victories like ECPS, there is cause for hope.
JCUA's organizing on Immigration Justice continues to ensure that our city and state are welcoming and supportive to immigrants. This year, we helped to secure passage of legislation in Springfield that will reduce medical debt and ensure that immigrants can access regular Illinois state drivers licenses and IDs. Our multigenerational campaign victories for immigration justice are a cause for hope. 
There is so much more I could share with you about our work. We are proud of the Community Ventures Program (CVP), a catalyst for affordable housing, good jobs, and neighborhood investment. Our youth programs speak for themselves — if you've met a participant, you know what I'm talking about! The powerful multicultural Kol Or Jews of Color Caucus, our congregation partner network with 17 participating congregations, our work on Treatment not Trauma, which more than 90% of voters agree is urgent and necessary, and our focus on advancing a wide-reaching understanding of antisemitism in which our solidarity framework is garnering national attention. JCUA's reputation as a leader in Chicago and across the country continues to grow.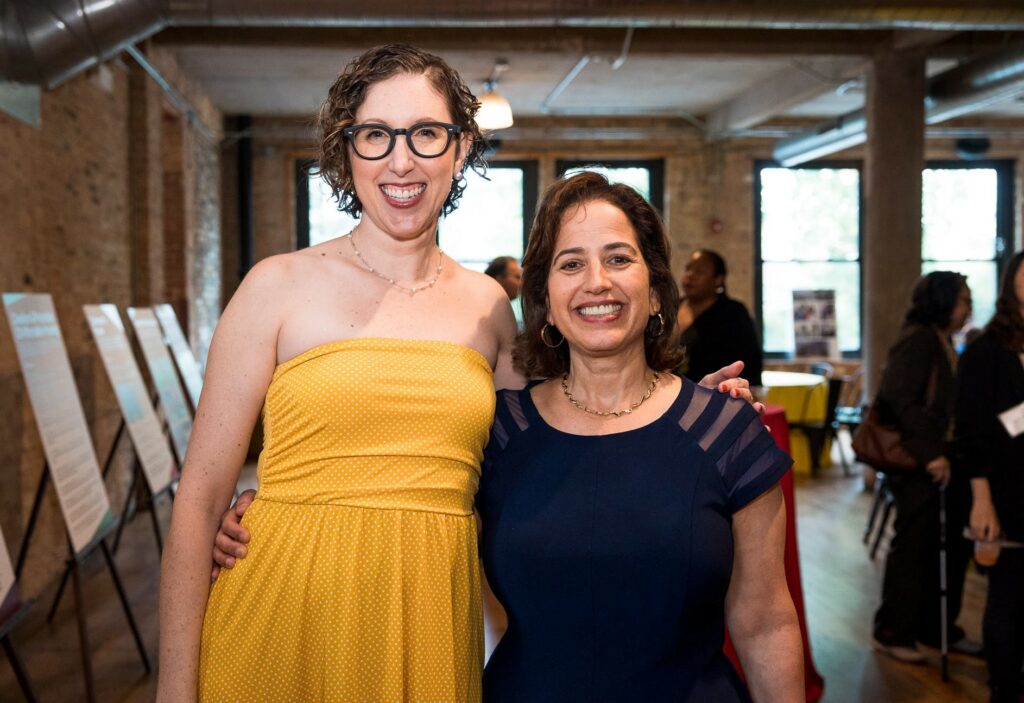 In addition to our programmatic work, our organization is proud to embrace staff self-determination by making progress at the bargaining table. We believe that this is the right path for a stable, healthy organization. And through ongoing leadership development at the staff level, we are investing in the responsible, compassionate leaders of the future.  
Lastly, I would be remiss if I didn't put in a big cheer for our new sibling entity JCUA Votes. 
And…we have a new Chicago mayor whom we believe shares our values — and a whole lot of new alderpeople who understand what a city that values fairness and equity ought to look like. This is all cause for hope.
We are committed day-by-day to the grassroots transformational work to pursue justice. We know that in the 3rd largest city in our country, all people should be able to flourish. That is what we are working for. And when we link arms with our neighbors to translate our passion and experience into action, change happens. That is why we're hopeful.
I would like to thank and congratulate our Rabbi Marx Award honorees Steve and Gerry Keen. They have been extraordinary JCUA champions forever! For Gerry, since childhood, and in their friendship and their support of me personally I have learned so much about leadership and what a steady dedication to a sacred cause looks like. I am profoundly grateful to you both.
To Brother Mike Eldridge, the recipient of our Miriam Award. No matter how busy Brother Mike is with family and work and community, he always makes time for JCUA. He is a "count me in" leader and every time he takes the microphone, I am inspired. Thank you Mike for your partnership and authenticity in building JCUA's collective power.
A heartfelt thank you to our event co-chairs Kay Berkson and Sidney Hollander and Zac and Linda Braun and the entire host committee. Thank you to our outgoing board president Karyn Bass Ehler. Karyn has served on the JCUA board for a full decade and has been a tireless partner in ensuring that we are vibrant and poised for growth. Thank you Karyn for your commitment and leadership.
Thank you to outgoing board members Jeff Zaluda, David Feinberg, and Matt Owens who are rotating off the board at the end of the month. Each of them has been integral to JCUA's dynamic member-driven journey and we are deeply indebted to them. And thank you to all of our board members. Your commitment is critical to our success.
Finally, I would like to recognize the staff of JCUA. Kudos to the entire team with a special shout out to our Development Manager Julie Mansfield, who was instrumental in creating Acts of Change.
I want to leave you with a few words of Torah, connected to this week's upcoming parshah, B'ha-alotecha. In the Book of Proverbs, King Solomon says:
 נֵ֣ר יְ֖הוָה נִשְׁמַ֣ת אָדָ֑ם
The soul of a human being is a candle of God. Every person is called to see that their candle shines brightly. We are also entrusted to assure that the candles of one another are lit. Through your support and engagement, you make JCUA's collective work possible.