October 19, 2023
Meet Emily Piff, JCUA's Database Manager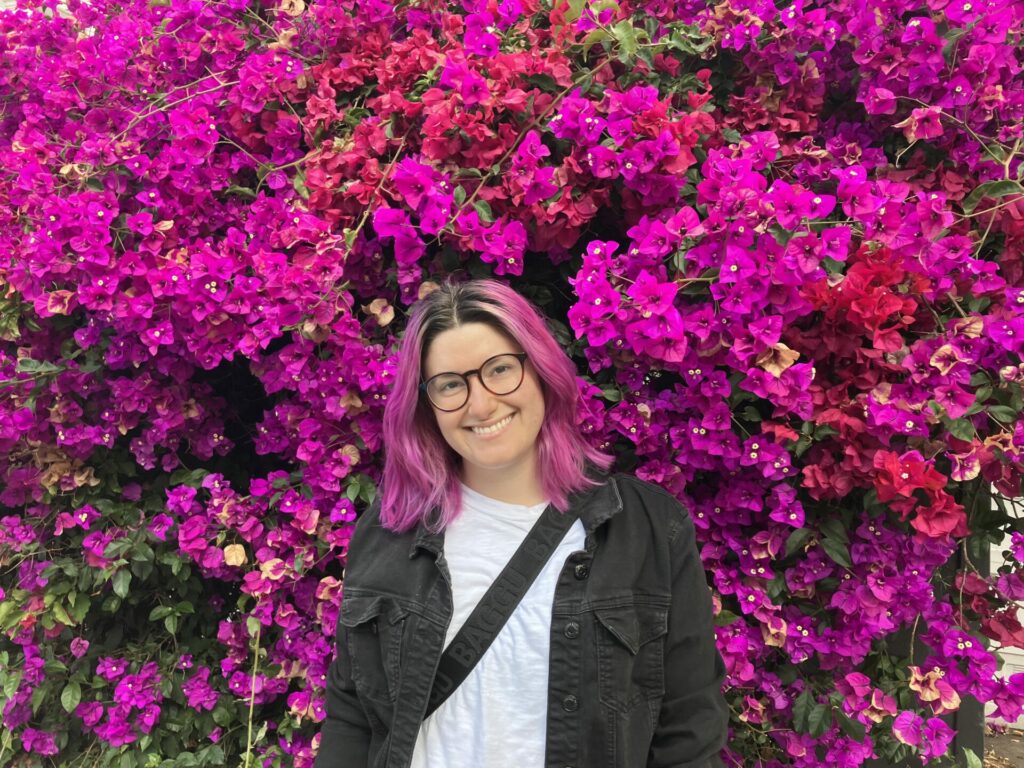 Hello JCUA community!
My name is Emily Piff (she/her), and I will be joining JCUA as the new Database Manager. I am passionate about using data for social good, and I am excited to help forward JCUA's mission of pursuing social justice in the greater Chicago area.
I grew up in Huntsville, Alabama, where I have fond memories of playing Mahjong with my mom and her friends at the local synagogue. I attribute much of my interest in politics to my father, who led a local campaign when I was eight to fight against the sale of public park land to real estate developers. This is where I first experienced community organizing, canvassing people in the park, and speaking at city council meetings about the need to protect public natural space.
I moved to Atlanta, Georgia to study at Agnes Scott College, a historically women's college, where I majored in Mathematics, Business, and Physics. In my time there, I served as President of our school's Hillel and built strong Jewish community on campus and across the city.
I moved to Chicago in 2017 and participated in the JCUA Organizing Fellowship the following year. This is where I was introduced to organizing and a new world opened up for me. One important lesson from the fellowship involved the years of deep organizing work and planning that went into the Montgomery Bus Boycott in 1955-1956. This was an eye-opening moment for me, as I had grown up in Alabama but had never learned about the difficult work that was necessary to implement and sustain such a powerful action.
I continued volunteering as a member of the Community Safety Committee, working to help pass the Grassroots Alliance for Police Accountability (GAPA) ordinance. When our Empowering Communities for Public Safety (ECPS) ordinance finally passed in 2021, it was the first time I experienced a "win" in organizing and it was electrifying! Seeing the implementation of ECPS along with the work of JCUA Votes has been an amazing example of how electoral politics can be used to build power and drive progressive social change.
I also became deeply involved in the White Racial Justice Working Group at JCUA, which is an affinity space for white Jews to unlearn and challenge the beliefs and behaviors of white supremacy. I feel proud to be a part of an organization that sees anti-racism as a core tenet and is working towards a world beyond white supremacy.
For the past five years I worked as a Senior Data Analyst at the Chicago Transit Authority. It was meaningful to be able to contribute to a world class transportation system right here in our own city. I am grateful for all that I learned in my role at CTA, and I am looking forward to bringing my data skills and knowledge to the JCUA team.
In my personal time, I like to make art and play music. My current favorite mediums are stained glass, sewing/fashion, and piano. I live with my partner and our 3 wonderful pets (2 cats and a dog!) I spend my free time attending events at the Chicago Public Library, walking in the park, and growing vegetables in my outdoor garden.
I am excited to have the opportunity to serve this community and help JCUA build power in my new role as Database Manager. You can reach me at emily@jcua.org!