March 24, 2023
Let us pursue an expanded vision for public safety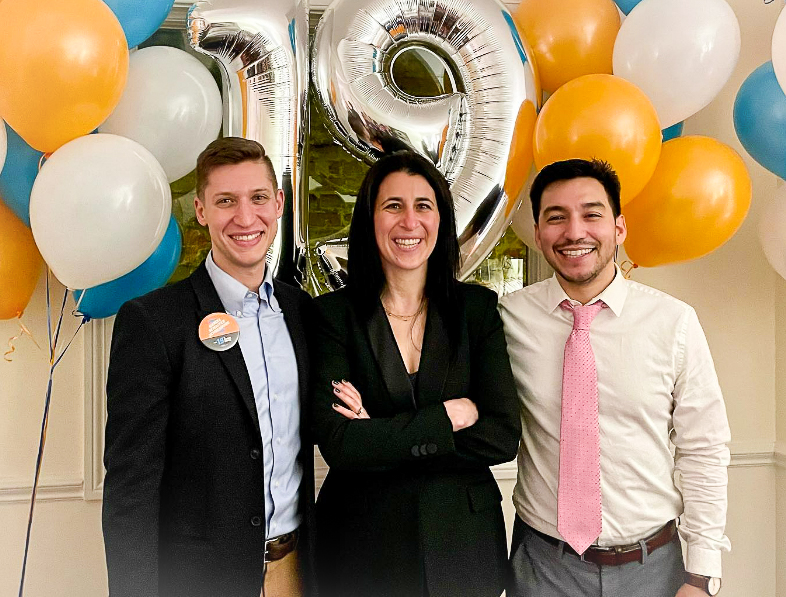 My name is Jenny Schaffer, and I was just elected to District Council in the 19th Police District alongside my slate-mates Sam Schoenburg and Maurilio Garcia.
The first-ever elections for District Council on February 28 was an enormous milestone in our collective work to achieve public safety. It was also incredibly meaningful on a personal level. I'd like to share a bit about how we got here.
I first became involved in social justice work when I left my bubble and met people who were living just a few miles away, but having a completely different experience. I witnessed how a lack of resources and opportunity in Chicago's majority Black and Brown neighborhoods were devastating to the entire city. Many people are living without their basic needs met, which affects their current realities and future opportunities. 
It is impossible to have this amount of divestment and poverty without its consequences spilling out into the entire city. Therefore, we are responsible to change this — not because we are "good" people and want to help others but because all our futures and safety depend on it. We are all connected. We can't have lasting, meaningful safety in our city until every neighborhood and every person is able to have their basic needs fulfilled.
I got involved with JCUA years ago, through its congregation partnership with Mishkan Chicago, where I co-lead the Local Action Team. What gives me hope is that Mishkan and JCUA are bringing people together to build better, more just systems. We build power through community and get things done together; this is the only way real change can be made. 
JCUA invited me and the Mishkan community into their campaign to establish a civilian-led, police oversight board through the Empowering Communities for Public Safety (ECPS) ordinance. JCUA members and staff equipped us with the historical knowledge necessary to join the movement, shared updates on how the efforts were progressing, and always offered up action steps that could advance the mission. Doing this work in my community felt empowering and helped me build connections and skills to further my activism.
When the ECPS ordinance finally passed after years of struggle, I could feel the massive energy and commitment of the people in the movement. It felt right that this was something imagined, championed, and won by the community. And I knew I was ready to take an even more active role in the work.
Alongside the city-wide oversight body — the Community Commission for Public Safety & Accountability (CCPSA) — the ECPS ordinance created District Councils in each of the city's 22 police districts. District Council members will serve as the eyes and ears of the community in regard to issues of policing and public safety. They will hold monthly meetings, collaborate in the development and implementation of new safety initiatives, and work with and nominate members to the CCPSA.
I chose to run for District Council in my 19th Police District, not because I have all the answers, but because I felt the strength of this community and knew that together we have solutions. I became part of a slate, alongside fellow JCUA member Sam Schoenburg and our colleague Maurilio Garcia. Coming together, we were able to express a shared vision for public safety, collect petition signatures together, and support one another as first-time candidates for public office
The campaign wasn't easy. It required hours and hours of my time and energy. It required our slate repeatedly winning court rulings against Chicago's Fraternal Order of Police, who were opposed to the ordinance and used every tool they could to throw us off the ballot. But ultimately the FOP failed, and my friends and larger community were so dedicated to our campaign On Election Day, the people spoke and overwhelmingly supported our visions of an expanded public safety system.
Now that we have been elected, we have the chance to serve the people of the 19th District. The community wants to see mental health care professionals responding to the huge number of mental health care emergencies happening in our city, so people in crisis receive Treatment Not Trauma. The community wants to see substance abuse workers responding when there are drug related calls and wants appropriate responses to homelessness in our city so we can Bring Chicago Home.
We also know that there is a long-term goal toward which we must be working. If we want to address the root causes of violence, we need to invest in all communities across the city so that everyone in Chicago has what they need to thrive. We must address the root causes of violence with public investments in things like housing, education and health care.
This expanded vision of public safety is critical to creating more just communities. I am excited to use my District Council position to move us closer to this vision.
JCUA was crucial in passing the ECPS ordinance. However, our work is just beginning. JCUA will be an important partner in making sure that District Councils effectively create change to the system. Please join us and stay involved.
Inauguration Day is May 2nd. If you live in the 19th Police District, I hope to see you at a meeting soon. In the meantime, you can reach me at jennyschaffer19DC@gmail.com.