June 20, 2023
Margarita Inn gets permanent status — with JCUA's support
The Margarita Inn — a homeless shelter in Evanston operated by Connections for the Homeless — received permanent operating status last month, thanks to the advocacy of local residents and institutions including JCUA.
Connections first opened the doors of the Margarita Inn hotel to folks experiencing homelessness in March 2020. Since then, the site has housed more than 300 individuals, the majority of them Evanston residents. The average length of stay is 10 months, and most residents have gone on to find stable housing.
The Margarita Inn is an example of non-congregate housing, which means that each resident has their own room. This was first instituted to limit the spread of COVID during the height of the pandemic, but has proven to be an effective model for providing residents with stability, agency, and autonomy they need to successfully transition to permanent housing.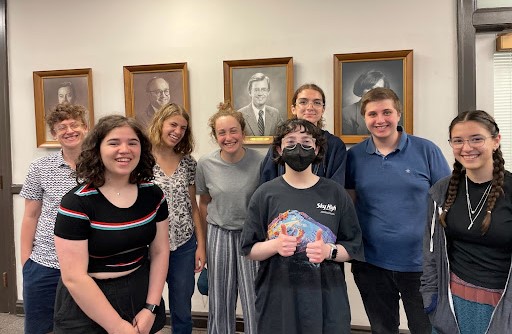 Because the Margarita Inn has been so effective, Connections sought to purchase the property and formalize its status as a permanent shelter. To help with the purchase and rehabilitation, JCUA provided a $200,000 zero-interest loan through our Community Ventures Program (CVP), which strengthens affordable housing across our region. And as Connections went through the approval process in the Evanston City Council, JCUA members were there to raise our voices in support.
At the May 9 Evanston City Council meeting, JCUA Community Development Manager Rose Shapiro, who runs the CVP program, gave public comment in support of the Margarita Inn.  During the final approval vote on May 22, members of JCUA's Housing & Economic Justice Committee showed out to voice their support.
Jonah Karsh, JCUA's Avodah Organizer and an Evanston native, leapt at the chance to organize his fellow Evanstonians, organize JCUA youth members, and bring Northwestern students to the final meeting. Jonah and other JCUA youth gave public comment, and thanks to the support of many individuals, organizations, and partners, the Evanston City Council voted to grant the Margarita Inn its permanent status. 
Connections will now be able to complete its purchase and finish renovations on the Margarita Inn. We are looking forward to seeing its continued success!
See all of JCUA's current Community Ventures Program (CVP) projects!