February 24, 2023
New CVP Project: SACRED Apartments
This month, JCUA awarded a $100,000 loan to SACRED Apartments, a mixed-use community development project in the neighborhood of South Chicago. The loan will cover predevelopment costs – including architecture, design, and legal fees – associated with the construction of 81 units of affordable housing and 6,000 square feet of commercial rental space. SACRED – which stands for Sustainable Affordable Commercial Real Estate Development – is being developed through a partnership between Claretian Associates and Interfaith Housing Development Corporation (IHDC).
The 5-story, L-shaped building, on the corner of 92nd street and Burley street, will include a mix of studios, one-, two-, three-, and four-bedrooms, creating affordable housing for both families and individuals in the neighborhood. Rental prices will target households earning incomes ranging from 30% – 60% of the Area Median Income (AMI). (AMI is determined based on the average (median) income of each household within a region. The AMI for a family of four in Chicago is currently $104,200). Twenty percent of SACRED's units will be designated as permanent supportive housing for formerly homeless households.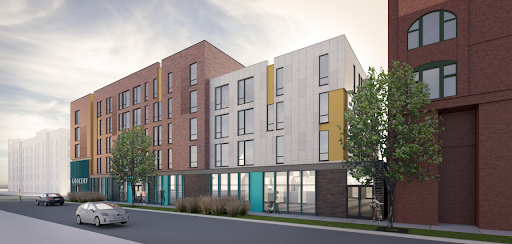 The first floor of this structure will include about 6,000 square feet of commercial space located along the 92nd street frontage. IHDC and Claretian hope to partner with a grocery store to increase food access in the neighborhood. The building will achieve Enterprise Green Community certification, and with a Metra electric stop one block west and a CTA bus stop outside the front entrance, residents, employees, and patrons will be able to use nearby public transportation to come and go.
SACRED Apartments will return a large track of vacant City- and privately-owned land to productive use and will bolster the affordable housing and community development investments that have already been made in South Chicago.