July 11, 2023
Welcoming Sara Cantor as our Board President!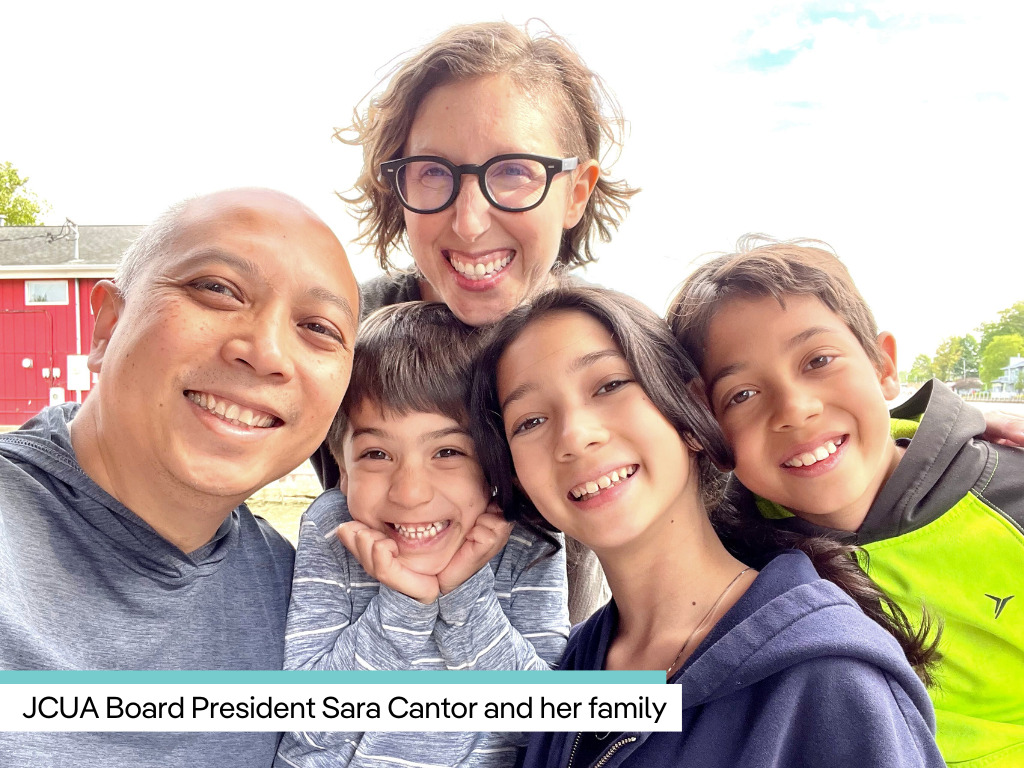 Hello friends!
My name is Sara Cantor, and I'm thrilled to take on the role of JCUA Board President. A little background about me: I live and work in the Old Irving Park neighborhood with my husband and three kids, ages 12, 9, and 4. I'm a proud Builder at Mishkan. And I run a social design agency called Greater Good Studio, which I co-founded in 2011 to bring the methods and mindsets of human-centered design to the social sector.
I have been involved with JCUA since 2016. I first joined the organization because I wanted to better understand the origins of today's social issues. What I've consistently found compelling about our community is that we understand how antisemitism, white supremacy, and anti-Blackness intersect and show up within the Jewish diaspora. And with this understanding, we stand up and speak out in both solidarity AND self-interest because we know our safety as Jews is inextricably tied to the safety of all our neighbors.
My goals for my term as Board President are not unlike those at my day job — supporting our Board and organization to be more creative, inclusive, and connected. I have some concrete plans, which include investing in our internal systems and stakeholders, learning from new pilots and initiatives, and building JCUA's power through organizing people and organizing money.
As we continue our difficult work to bend the arc of our local universe towards justice, I hope to foster an environment where we can all grow together, make policies and practices more equitable, and have some fun in the process. Together with my fellow Board members, including our new Executive Committee of Cydney Wallace, Steve Rothschild, Rich Amend, and Karyn Bass Ehler, and alongside our awesome staff, members, and partners, we will bring JCUA's legacy of pursuing justice into its seventh decade.
If we haven't met yet, I look forward to getting to know you and hearing more about how you'd like to see JCUA grow. If you're excited about the work the JCUA Board of Directors is doing and want to learn more, you can reach out to me directly at sara.c@greatergoodstudio.com.